Download PDF
Klaus Rieser und Susanne Rieser
And the sea can shed shimmering scales indefinitely….
And each one is the equal of the other
as it catches a reflection and lets it go.
As it preserves and blurs.
As it captures the glinting play of light.
As it sustains mirages.
Multiple and still far too numerous for the pleasure of the eye,
which is lost in that host of sparkling surfaces.
And with no end in sight.
Luce Irigaray (1991)
Die Anfrage, ob wir zur Geburtstagsgabe von Johanna Rolshoven einen Beitrag verfassen möchten, erreichte uns an einem Freitagnachmittag, als wir gerade unsere jeweiligen Vorlesungsunterlagen für Cultural Studies und Visual Culture Kurse sortierten, darunter Liquid Modernity, dazwischen Buchungsunterlagen für eine geplante Marseille-Reise. Die Idee zu einem Beitrag lag damit bereits ausgebreitet vor uns — Reflexionen zu time/ travel/ liquidity/ visuality/ movement/ lightness.
In Marseille wurde es dann zu einem Spiel, verschiedenste Flüssigkeiten aufzuspüren: nicht nur das Hafenwasser oder den Canal de Marseille, sondern »liquids« in allen lokalen und globalen Ausformungen, dabei ihre Produktions- und Verwendungszusammenhänge mitzudenken und auch ihre Schönheit wahrzunehmen: Zitronensaft, Roséwein, Bouillabaisse, jus de moules, infinity fountains, Abwasser, Regenpfützen, Hundepisse, Schiffsmotorenöl, Orangensaft, Aioli, Weihwasser, Savon de Marseille Lauge, eau de lavande, café, Cassis, Pastis 51, Mandelmilch, schwarzes Eis, Olivenöl, Schlachtblut, Parfum, Kondensstreifen, Melonensaft, den Schweiß von Touristen und Migrantinnen … und schließlich das offene Meer, auf dem die einen segeln und die anderen rudern müssen. Das Meer, über das die einen aus Europa geflohen sind, über das die anderen nach Europa zu flüchten versuchen. Transit!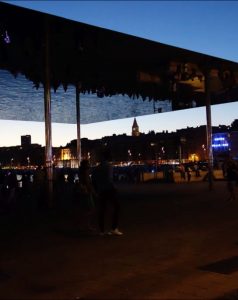 Zygmunt Bauman (2000) considers fluidity and liquid as the most apt metaphors for the present stage of modernity:
"What all [the] features of fluids amount to, in simple language, is that liquids, unlike solids, cannot easily hold their shape. Fluids, so to speak, neither fix space nor bind time. While solids have clear spatial dimensions but neutralize the impact, and thus downgrade the significance, of time (effectively resist its flow or render it irrelevant), fluids do not keep to any shape for long and are constantly ready (and prone) to change it; and so for them it is the flow of time that counts, more than the space they happen to occupy: that space, after all, they fill but 'for a moment'. In a sense, solids cancel time; for liquids, on the contrary, it is mostly time that matters. When describing solids, one may ignore time altogether; in describing fluids, to leave time out of account would be a grievous mistake. Descriptions of fluids are all snapshots, and they need a date at the bottom of the picture.
Fluids travel easily. They 'flow', 'spill', 'run out', 'splash', 'pour over', 'leak', 'flood', 'spray', 'drip', 'seep', 'ooze'; unlike solids, they are not easily stopped – they pass around some obstacles, dissolve into others and bore or soak their way through others still. From the meetings with solids they emerge unscathed, while the solids they have met, if they stay solid, are changed – get moist or drenched.
These are reasons to consider 'fluidity' or 'liquidity' as fitting metaphors when we wish to grasp the nature of the present, in many ways novel, phase in the history of modernity.